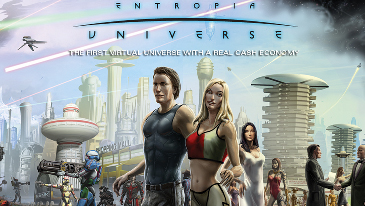 Entropia Universe is free to play 3D Sci-Fi MMORPG with interesting economic and social features. MindArk's virtual economy universe is known by many names depending on when you started playing the game and what planet was the key planet at the time. While the game is free-to-play and does have some typical MMORPG elements (combat, questing, looting, etc) the primary difference between Entropia Universe and other games is the linking of a real world currency exchange.

Imagine this: you spend $10 USD to buy some in game currency. You then use that currency and your skills (like sweating monsters) to farm up items of value and triple your total in-game currency. Sounds familiar so far, right? Here's where Entropia Universe differs though. You can exchange that in-game currency BACK into real world money whenever you want to do so at a fixed conversion rate. This means players can play their game, have some fun, and turn an actual real life profit if they work hard enough.

This primary economic mechanic had netted Entropia Universe some serious press as players buy and sell actual locations in game for hundreds of thousands of real life dollars. The game has also appeared in the Guinness Book of World Records earning titles multiple times for the most expensive virtual items ever sold.

In game, players aren't really limited to classes. If you like combat, go for it. Want to be a surgeon? You can do that too. If you can find a way to earn money doing something, chances are that Entropia Universe will allow you to do it. If you're looking for a slightly off the beaten path Sci-Fi MMO game and would like to take your chance at making some extra scratch, check out Entropia Universe.

Additional Information
Release Date
January 30, 2003
Free