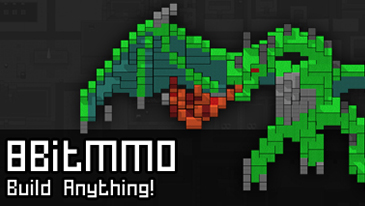 Listen up all of you 8­bit lovers out there! As the name would suggest, 8BitMMO is a free to play retro­style 2D massively multiplayer game! Basically, it's a giant sandbox. You can build anything your heart desires; be the king of your own castle, or live simply in a quaint little home; and if you choose to build your own city, 8BitMMO has an impressive array of management tools to help you oversee it all! The best part about this persistent streaming world is that it's free to play!

You and your friends will love the interactivity of 8BitMMO, as you are able to customize your character to fit your own style. Choose from hats, clothing and accessories ­ and even change the color of your skin! If you're more into action, 8BitMMO has that too! Do you hate the thought of Lobbyist Slugs, Lawyer Cats and Hipsters? Invite your friends and fight off these nefarious enemies together! If you're looking for something a little bit different, why not become a zombie? In 8BitMMO even that is possible! Just make sure you have a steady supply of brains (yum!) to keep you well fed (and don't worry about your victims, they'll just become zombies too!).

8BitMMO is a world built 100% by the people who play it, and the world is massive so you don't have to worry about running out of room. The game's MegaMap is based on the Google Maps API and is a handy way to browse the world and share your creations with your friends. Unlike many other games out there, 8BitMMO is under interactive development, which means development of the game is still ongoing, and you have the opportunity to suggest your ideas or vote on others that you like! What will you build?
Additional Information
Platform
Windows, Web Browser
Publisher
Archive Entertainment
Developer
Archive Entertainment
Release Date
January 26, 2015
Screenshots
Free