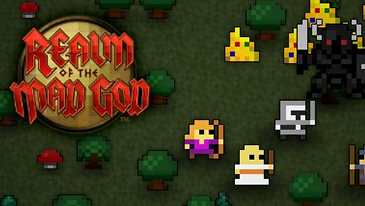 Realm of the Mad God is a fast paced 2d free to play MMO shooter game with a retro 8-bit style and RPG elements. Need something for some quick fun in a browser, on Steam, or through a direct download? Realm of the Mad God may be just the distraction you need. Now under Kabam's banner, Realm of the Mad God brings the "bullet hell" experience to the MMO front and challenges players to kill quest monsters in its pixelated world.

While not graphically intense, Realm of the Mad God delivers in game intensity through increasingly difficult zones that challenge players to take on one of many classes (unlocked through gameplay) and dodge and fire your way to success. Gather experience and equipment and seek out rare monsters for a chance at epic drops or access to rare event dungeons. Realm of the Mad God can get repetitive, but since the game uses a permadeath mechanic, when you're low on health your heart will be racing. Die and you lose everything except the Fame you've gathered and any items you've stored in your small vault.

The game's cash shop does feature equipment including high end gear but since the game is PvE focused these items are only necessary for those players that want a boost up or want to bring a bit more to their group's performance. Dodge, shoot, and earn your way towards higher and higher Fame so you can unlock more of the game's features. But be warned, if you want to check out that class you just unlocked, death may be your only option so plan accordingly.
Additional Information
Title
Realm of the Mad God
Platform
Windows, Web Browser
Developer
Wild Shadow Studios
Release Date
February 21, 2012
Screenshots
Free