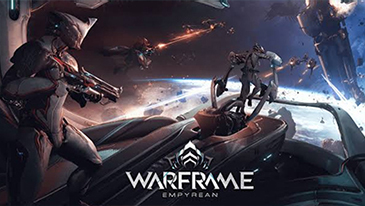 Warframe is a 3D free-to-play cooperative third-person shooter game set in an stunning sci-fi world. In the distant future, war against the Grineer Empire leads humanity to summon ancient warriors from the distant past. Called "Tenno," these agile fighters are equally skilled in blades and guns, able to carve their way through scores of enemies with skill and aplomb. A vast arsenal of these human weapons are called upon in mankind's darkest hour to rescue their brethren from total annihilation.

As one of these Tenno, staked with protecting humanity, you'll root out the Grineer from all their hiding places, scouring the Solar System and eliminating this nefarious threat. You'll choose from among dozens of deadly Warframes, each with its own set of skills and strengths. The game progresses through a series of levels, each themed around a planet or region of the Solar System, and each requiring a squad of four Tenno to clear. As you advance, you'll unlock more power for your Tenno, including new weapons and skills, letting you take on even tougher enemies.

Tenno have a number of sweet moves at their disposal, including the ability to "parkour" over and around obstacles, ziplines they can balance on, wall-latching and wall-dashing, and more. Tenno are also spiritual warriors, able to channel energy to spectacular results, including augmenting their weapon damage or activating special powers. Even when downed in battle, Tenno can continue to fight and rally to continue their missions.

Between missions, you can purchase better weapons for your Tenno or even entirely new Warframes, so you can try out a different play style. Some items cost credits (in-game currency) while others require platinum, which is purchased with real money. You can also craft your own weapons and insert mods to make them more powerful. Your ship, the Liset, is also where you'll select your next mission, which you can choose to be public, letting anyone join you, or private, which you can attempt with a pre-selected team.

Warframe requires fast reflexes and split-second timing to execute a Tenno's most dynamic moves. Because the game demands constant progression, and the resources required to purchase those progressions, a high skill factor is required, not only to play, but to play quickly enough to advance at a reasonable rate – and to keep up with your teammates. As such, there's a lot of repetition required. If you want to quickly rip through content over and over, growing in power with each iteration, Warframe will suit you.
Additional Information
Publisher
Digital Extremes
Developer
Digital Extremes
Release Date
March 25, 2013
Screenshots
Free