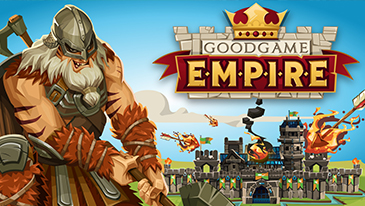 Raise your kingdom from nothing in Goodgame Empire, a free-to-play browser based strategy MMO from Goodgame! In Goodgame Empire, you will gather resources and build your thriving kingdom into a major power on the in-game world map.

With over 60 buildings to choose from within the game, Goodgame Empire allows you to make a kingdom based on your personal preferences. Even your mighty castle can be personalized to reflect your tastes and desires. And with weekly updates bringing brand new content, there's no shortage of new styles to try.

But kingdom is complete without an army? In Goodgame Empire, players will have access to over 50 unique military units that they can recruit and customize to take part in battles across four kingdoms in a unique and engaging battle system.

But you are not the only king in Goodgame Empire. There are over 70 million players worldwide and it is up to you to decide whether to forge alliances with them or wage war upon to them. There is much to do in order to ensure your kingdom thrives in Goodgame Empire, but it all starts with you and where you build your kingdom.
Additional Information
Publisher
Goodgame Studios
Developer
Goodgame Studios
Release Date
August 14, 2011
Screenshots
Free