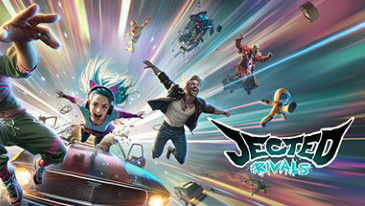 Jected – Rivals is a free-to-play game that mixes extreme sports, destructible vehicles, and speed in 18-player matches. To survive in this game, players will need to make use of a special ejection mechanic that will allow them to launch themselves out of their vehicles and into the sky. The trick is learning how to optimize this mechanic and get the lead on everyone else.

Players have a variety of vehicles to choose from – finding the one that best fits their playstyle. Choices range from supercars to SUVs, and more. And each can be tailored to the player's preferences.

The jetwing mechanic allows players to free themselves from the confines of their vehicle and easily move over or around obstacles. It can even be paired with a selection of gadgets like a grappling hook.
Additional Information
Developer
PowWow Entertainment
Screenshots
Free