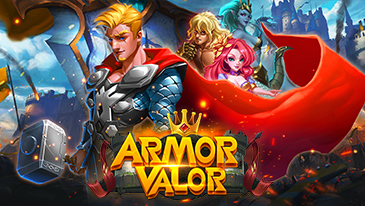 Build your empire with the help of mythical heroes and well thought out strategy in R2 Games' strategy RPG Armor Valor. Set in the world of Norse mythology, players take on the role of the "Lord" building powerful armies, gathering resources and developing their castle – all while dealing with monsters and dragons tormenting the untamed landscape.

Armor Valor is set in the magical civilization of Brettchill in the southeast of Magmel. Once peaceful, this land is now filled with endless conflict. Elves and Dwarves have teamed up against humankind in an effort to put an end to this conflict, but humanity's focus on technology and industry has prevented them from being stopped completely. As the human race spreads their influence, they come upon an even more powerful race – the Orcs – and make yet another enemy.

The game is available to play in three languages, English, Japanese, and Traditional Chinese. It features 21 different constructs divided into the following types: economy, city defense, military, and other. Not only do players need to defend their kingdom against NPC's but they'll have to contend with other players who may attack their kingdom at any time.
Additional Information
Release Date
July 20, 2020
Screenshots
Free