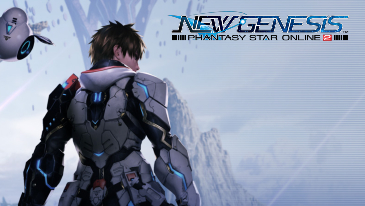 The legacy of Phantasy Star Online 2 continues a thousand years later, as the next generation of ARKS operatives join forces with a race known as the Meteorn on the planet Halpha to defend against a new threat, The Dolls. Phantasy Star Online 2: New Genesis is an open world online RPG featuring a day-night cycles, weather effects, and a revamped battle system. It also introduces ways to travel no in the previous game, including gliding. All of this is built on a new graphics engine.

Despite its differences from PSO2, the games are still connected, with players being able to move back and forth via the client. Players of the original can even bring characters already created in the original game, as well as certain items into New Genesis. For those who played the original game, New Genesis will be familiar in a lot of ways. The games have similar interfaces, quest types and other features. They both also share the same class types, and as with the original game, players will use Mags in combat.

Players just entering the Phantasy Star Online 2 universe through New Genesis will also be able to take advantage of its relationship with the original game. The games share the same client and players can move between them and even collect gear from the original game to use in NGS.

Additional Information
Title
Phantasy Star Online 2 New Genesis
Release Date
June 09, 2021
Screenshots
Free