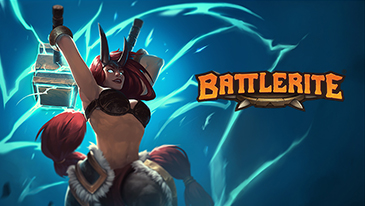 Battlerite is a free-to-play team arena brawler developed by Stunlock Studios. Players play as one of several available champions — with more in development — on teams in 2v2 or 3v3 matches.

The game features three arenas, Mount Araz — built on a dragon graveyard at the edge of cape Kaal, Orman Temple — built in the garden of an abandoned temple, and Sky Ring — built on a floating island in the desert kingdom of Trolobe.

Players can compete via the game's ranking system and earn their chance to compete in community tournaments. There is also a variety of rewards to be earned via quests. Rewards come in the form of chests containing cosmetics that can be used to customize outfits, weapons, victory stances and more.

Features unique to the game include battlerites that players can choose from as part of strategically developing their play style to match the gameplay, as well as top-down bullet-time, giving players a second look at their gameplay choices.

Battlerite is available to play via Steam.
Additional Information
Publisher
Stunlock Studios
Developer
Stunlock Studios
Release Date
September 21, 2016
Screenshots
Free