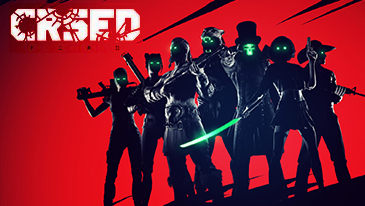 Darkflow Software's Cuisine Royale has been reincarnated as the "brutal MMO last-man-standing shooter", CRSED: F.O.A.D (Cuisine Royale Second Edition) This game replaces the original and is focused on massive PvP battles filled with dozens of players fighting for supremacy in one of four highly detailed locations. Of course, this is a battle royale, so in addition to dealing with each other, players must contend with the ever-shrinking map.

Players can choose between seven different champions, each with a unique super power. Speaking of powers, there's also a bit of mysticism involved, with ancient ritual, hex bags, blood magic, and more. Players can use these skills to flood the map, summon zombies, and even teleport.

Of course, it's not all magick and powers. There are the standard weapons – all realistically modeled.These include anti-material guns, sniper rifles, Ars, rocket launchers and flamethrowers. Vehicles also have an impact on gameplay with players having access to military amphibians and speed boats.

Unlike other battle royales, CRSED: F.O.A.D offers players a choice between third and first-person view when playing. This is achieved by equipping all players with a familiar with a camera that can see players peeking around a corner.

Previously described as an "all-kitchen-warfare battle royale game", Cusine Royale started out as an April Fool's joke from the developers of the MMO shooter Enlisted, and eventually took on a life of its own due to how popular it was with fans. But the new season and reboot, changes everything!


Additional Information
Publisher
Gaijin Distribution KFT
Developer
Darkflow Software
Release Date
December 12, 2019
Screenshots
Free